Welcome and "Hallo"!
My page in Portuguese. Minha página em portugues.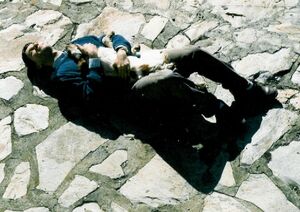 My favorite hobbies are mancala games, hiking, cooking and animals (I have three chicken and four running ducks). In my spare time I co-moderate the Yahoo!Group mancalagames, a gorgeous forum founded by the British Oware player Paul Smith, and I am the owner of a large international forum (almost 600 registered members) on intentional communities. I studied Culture and Religion at Tübingen University and graduated in 1999 (Master of Arts).
My favorite mancala games are Togus Kumalak (German spelling ;-), Lamlameta, 55Stones, Kauri and Layli Goobalay (as played in Berbera, Somaliland). In 2011, I became the German Vice-Champion in Toguz Kumalak.
I have invented numerous mancala games: 55Stones (2002), Afrika (2004), Geisterfahrer (2004), Pas de Deux (2004), Progressive Mancala (2004), Rondell (2005), Kauri (2006), Manji (2007), Trias (2008), Dogon (2010), Dracala (2010, and Toguz Poddavki (2010). In addition, I suggested some meta-games such as Condi Mancala (2006), Royal Mancala (2006) and Suicide Mancala (2010). There are also a few other board games I authored: Netak (1973), Doppelt hält besser (mid-1970s), Einauge (mid-1980s), Dornröschendame (1986), 1000-Volt-Go (1988; tournaments in Germany and the USA), Walking Purchase (2001) and Écoute-moi! (2002).
Almost a decade ago, I authored numerous articles for the Canadian Abstract Games magazine until the it became defunct. At that time (in 2002/2003) I was a jury member of the Simultaneous Game Design Competition sponsored by About Abstract Games and Abstract Games magazine. What a pity - there wasn't even one single mancala game!
Collector
In my library, I have a small collection of mancala boards (about 70), a growing number of monographs on mancala games (42 at the moment) and many research articles on mancala (more than 400).
The highlights of my collection (traditional boards only) are:
An Adi board (Teak wood, adorned with graven huts) from Togo (Kpalimé region)
Six Oware boards ("Airport" style), one of them made by Kofi Tall, and one magnificent Oware game table (board carried by an elephant) from Ghana
An Ayo board from Nigeria made in the 1970s
Three Bao boards from Zanzibar, Tanzania
One Endodoi board (2x8) from Tanzania
One Bao board from Kenya
One Bao board from Italy (Changamano)
An Omweso board from Uganda
Five Toguz Kumalak boards (plastics) from Kazakhstan
One Toguz Kumalak board (wood) handcrafted by the German Toguz Kumalak master Jurij Nold
One Toguz Korgool board (plastics) from Kyrgyztan
A Chonka board (lacquered wood) from Borneo, Indonesia
A huge Congkak board from Indonesia shaped like a dragon boat
A fish-shaped Dakon board (wood batik) from Java, Indonesia
A sophisticated Mechiwa board from Bali, Indonesia
A Sungka board (wood batik) from the Philippines
A handcrafted Alemungula board made by Portuguese students in Lisbon
My Articles
First published on wikimanQala
I authored the following articles (the actual name on Mancala World is given):
Modern Mancala Games
Traditional Mancala Games
Other Sowing Games
Meta-Games
Other Terms related to Mancala
People related to Mancala
Mancala Lists
Dictionaries
First published on Wikinfo
Modern Mancala Games
Two-dimensional Sowing Games
Traditional Mancala Games
Meta-Games
General Mancala Articles
First published on Mancala World
The following articles were first published here: