Mefuvha
First Description: Hugh
Arthur Stayt, 1931
Cycles: Two
Ranks: Four
Sowing: Multiple laps
Region: South Africa
Mefuvha ("foggy rain") is a mancala game of the Venda who are living in north-eastern South Africa. It is closely related to Moruba played in the same area by the Pedi and to games known by the Tonga in Mozambique, e.g. Tchouba and Njombwa. The game is played by men only, while women play Ndode, a game of dexterity.
Mefuvha is mentioned in old Venda legends such as the story of Sankhambi and the Baboons, which was written down by the British ethnologist Hugh Arthur Stayt in 1931.
In the rainy season it is strictly tabu to play the game with stones, for fear that the rain will be turned to hail; fruit pips are used instead. Moreover, it is prohibited to play the game after sunset because this would provoke cattle theft. The symbolic meanings of the game are athmospheric conflict and cattle-raiding.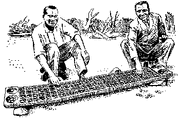 Mefuvha is played on solid wooden boards made from the trunk of a tree that can measure two meters and longer. Stayt observed boards up to 28 holes per row. The game was thus regarded to be the largest mancala game until it was reported in 1971 that Nsolo is played on bigger boards (up to 4x36 holes). Since 1995, Tchouba is known to be even larger (up to 4x40 holes).
The name of the game has often been misspelled as Mefuhva.
Rules
Mefuvha is played on a board with an equal even number of square holes in each of the four rows from six to twenty-eight in a row, the usual number being between sixteen and twenty.
The holes contain two seeds except the leftmost hole of each player's inner row, which is empty, and the holes adjacent to them in the inner rows, which have just one seed.

Initial Position (most challenging set-up)
Otherwise, the rules are identical to Moruba.
References
Botermans, J., Burrett, T., van Delft, P. & van Splunteren, C. 

The World of Games. Facts on File, New York (USA) & Oxford (England) 1989, 174-179.

Murray, H. J. R. 

A History of Board-Games Other Than Chess. Oxford University Press, Oxford (England) 1951, 211.

Russ, L. 

The Complete Mancala Games Book: How to Play the World's Oldest Board Games. Morlowe & Company, New York (USA) 1995, 96.

Santos Silva, E. R. 

Jogos de Quadricula do Tipo Mancala com especial Incidência nos Practicados em Angola. Instituto de Investigacao Cientifíca Tropical, Lisboa (Portugal) 1995, 142-143.

Stayt, H. A. 

The BaVenda. Oxford University Press, Oxford (England) 1931, 310+355-356+364-367.
Copyright
© Wikimanqala.
By: Ralf Gering.
Under the CC by-sa 2.5.