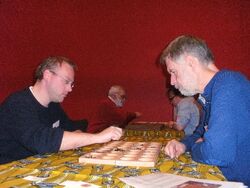 The International Bao Tournament (Dutch: Internationaal Bao Toernooi) was organized by the "Nederlands Baogenootschap (NBG)" on November 13-14, 2010, in Berg en Dal near the city of Nijmegen, Netherlands.
16 players from six nations participated in the competition, thus making it the largest Bao event ever held in Europe. Nine people were from the Netherlands, three from Italy, one each from Germany, Portugal, Switzerland and Tanzania. There were three women and 13 men.
The venue was a beautiful Africa museum, which also sponsored the event. Berg en Dal is, as the name suggests, nestled amidst mountains and valleys, and the museum itself is surrounded by a huge forest called the Reichswald ("Empire's Forest"), which even reaches into Germany.
The event started with a Bao night on Friday evening, while the actual tournament began on Saturday. The participants were divided in two groups and everyone had to play seven games round-robin.
The finals were on Sunday with up to another four games to be played by the leading players. In addition, Laurien Holtjer gave a talk about mancala games in general and Bao la Kiswahili in particular. Visitors were taught Bao and Oware and could also learn to play Tchouba, a 4x40 mancala game from Mozambique.
The tournament winner was Pepijn van Erp (Netherlands), who received a prize from the museum (a book on Africa), second place was Luca Cerrato (Italy), third place was the best female player, Patty Mulder (Netherlands).
Among the guests were Peter Blommers, the President of the Dutch Shogi Federation, Tom Kronenburg who researched Bao endgames, Nino Vessella, President of "Klubo Internacia de Bao-Amantoj (Kibao)" in Italy, and Luca Cerrato, editor of the Italian online magazine " Il fogliaccio degli astratti" and author of a Bao book.
The tournament was actually the unofficial European Bao Championship, the third of its kind. The first two international Bao tournaments were held in Italy (2008 in Senigallia; 2009 in Turin). It is planned to have the next European Bao Tournament in Rome (Italy) on September 10-11, 2011.
External Links
Copyright
© Ralf Gering
Under the CC by-sa 2.5 License.
Community content is available under
CC-BY-SA
unless otherwise noted.