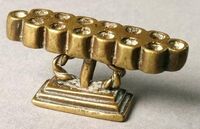 Akan art is renowned for the tradition of crafting bronze gold weights, using the lost-wax casting method. Many weights from Ghana, West Africa, are in the shape of an Oware board. Such weights were used for measuring gold dust.
Many European museums have collected these Akan weights, among them the British Empire Commonwealth Museum in Bristol (England), the MoneyMuseum in Zurich (Switzerland) and the Berne Historical Museum, also known as Einstein Museum, in Berne (Switzerland).
External Links
Sources
Graffenried, C. v.

Goldgewichte im Bernischen Historischen Museum - Goldweights in the Beme Historical Museum. Benteli Verlag, Berne (Switzerland) 1990.

Phillips, T.

African Goldweights: Miniature Sculptures from Ghana 1400-1900. Edition Hansjorg Mayer, Stuttgart (Germany) 2010.
Copyright
© Ralf Gering
Under the CC by-sa 2.5 license.