Exxit → French.
Exxit
Other Names: Exit,
Hex-It
Inventor: Vincent Everaert,
2003
Ranks: boardless
Sowing: Single laps
Region: France, Internet
Exxit is a modern sowing game created by the French Vincent Everaert in 2003 and published by Jactalea in 2006. The game was first called Exit, then Hex-It, before it attained its final name. Some rules (such as the initial set-up and the scoring) were slightly changed even after 2005.
It is a boardless boardgame, which is played with hexagonal tiles that placed during the game on a flat surface by two players: Black and White.
Exxit won the "Concours International de Créateurs de Jeux de Société" in 2004. The first World Championship was held on June 3, 2007, in Paris (France) and won by Axel Indygo after winning the final game against Yannick Nounouille with 28 : 20 points. The game can be played online at BoardSpace and Boîte à jeux.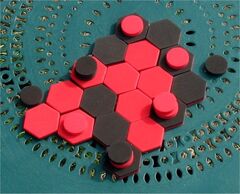 Material
Rules
External Links
References
Copyright