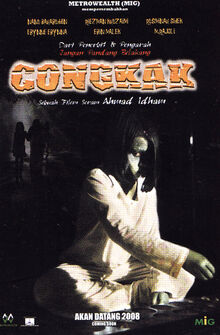 Congkak is a Malaysian horror blockbuster movie directed by Ahmad Idham and produced by David Teo of Metrowealth MIC. It is a horror film, in which Congkak, a traditional mancala game, turns into a haunted subject.
The film opened in Malaysia on April 17, 2008, when it set a new record for the Malaysian film industry as it was shown simultaneously in 65 cinemas nationwide. It soon became the most successful film ever in Singapore and was also shown in Indonesia, the Philippines and Thailand. Congkak is a quality production made at a cost of RM1.8 million and a 30-day shooting period and stars some of the best actors in Malaysia including Nanu Baharudin, Riezman Khuzaimi, Erin Malek, Rusminah Sidek and M.Rajoli.
Kazman is a dedicated husband who, despite his wife Sufiah's protests, decided to buy a bungalow for their family near a lake as a family getaway. Anxious in the new house, Sufiah feels as if someone is watching her. Her daughter Lisa, who would always go downstairs at night to play Congkak with someone whom she could only see, compounds her uneasiness. Sufiah throws the game in the lake, but is awakened the next night by the sound of Congkak being played again and upon investigation, she sees an old lady playing it. When her daughter disappears, the oldest resident in that area, Pak Tua, comes to the family's rescue and helps in locating the missing family members.
A warning was imposed advising pregnant women, people with heart problems, and children below 13 years of age not to view this film due to its scary nature.
One movie poster carries this warning sign:
"AMARAN: Ibu-ibu mengandung dan pengidap penyakit jantung dinasihatkan agar tidak menonton filem ini"
"WARNING: Expectant mothers and those suffering from heart ailments are advised against viewing this film"
External Links
Edit
Copyright
Edit
Adapted from the Wikipedia article, "Congkak (film)" http://en.wikipedia.org/wiki/Congkak_(film), used under the GNU Free Documentation License. Its history can be found here.