Arty Sandler → German, Portuguese.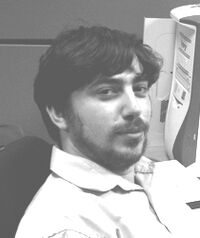 Arty Sandler (born Artyom Tchebotaryov, 1978-) is a software developer. He was born in Voronezh (Russia), later he moved to Smila (Ukraine), a small settlement near Minsk (Belarus), then to Upper Nazareth and Haifa (Israel). Today he lives with his wife Milana, daughter Sheana and son Kyle in Kanata, a suburb of Ottawa (Canada).
Arty is the creator and owner of the igGameCenter, an Internet game portal that facilitates the playing of abstract strategy board games in real time through the use of a multiplayer game engine. He implemented many abstract strategy games for the first time among them noted classics such as Bashni, Camelot, Lasca, Shatranj, and Teeko. Arty also programmed more mancala variants for his website than anyone else and thus became one of the most distinguished promoters of this game family. As of April 13, 2013, he implemented nine mancala games and five two-dimensional sowing game:
Arty also designed Quartetto (2008), a game of pattern-building, and Talpa (2010), a connection game.
External Links
[
]
Copyright
[
]
© Ralf Gering
Under the CC by-sa 2.5 license.